Written on Sep 18, 2009 by Kate
Photo and Feature Photo: Allmightymo
Why does my blog look so weird!?
They said to make the picture 600 px wide and so I did and now it looks like crap!
Why are my pictures too big?
They're messing up my text.
If you're reading this, you have become aware that to get people to look at your blog you need to include pictures.
Why?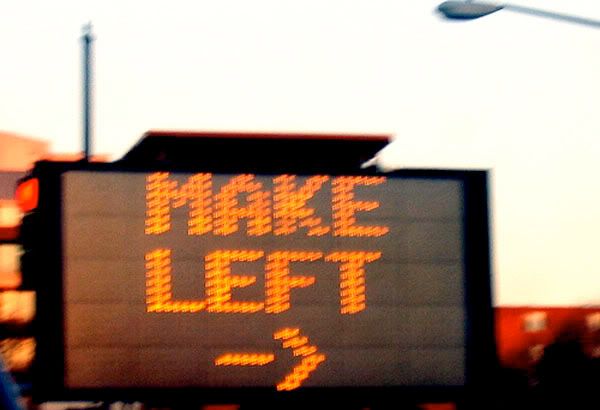 Photo: andryone
Well, people are dumb.
The sooner you realize that, the sooner you can begin to add features to your content that will keep the dumb people coming back.
This is what you want since most people belong in that category.
If you are saying to yourself, "But, Kate, why do you have to think of everyone as dumb?" you too can start counting yourself among the many, but don't worry.
Even if you do happen to be stupid, you should still be able to follow these instructions.
It's really easy. I promise.
In addition to breaking up your text so that people can maintain their attention span until the end of your paragraphs, you must put pretty pictures into your blog!
But it will all be for naught if you put huge pictures in that ruin your page or tiny pictures that they can't see.
Your best bet is to come up with a standard look and stick to it.
Most blogs will make a break in the text for a photo that is 600 pixels wide, so if you don't want to mess around with text wrapping the images, this is the way to go.
If you've got specific parameters to plug into and you don't know how, this will be especially useful to you because you will be able to make your image any size you want.
Check out any popular blog and you're bound to recognize similarities in all the entries.
All the pictures are about the same size.
The people that run that blog have found a formula that works and they are sticking to it.
The first thing you want to do is to host your own images.

You'll need an account at a content host, or you can use free (up to a point) hosts like Photobucket and Image Shack.
When I say your images, I don't mean that they have to be yours.
If your subject has to do with things other than your own life, you can use photos that nice people put out there as Creative Commons.
The most widely used site for mining these thousands of free images is Flickr.
Here's how to search: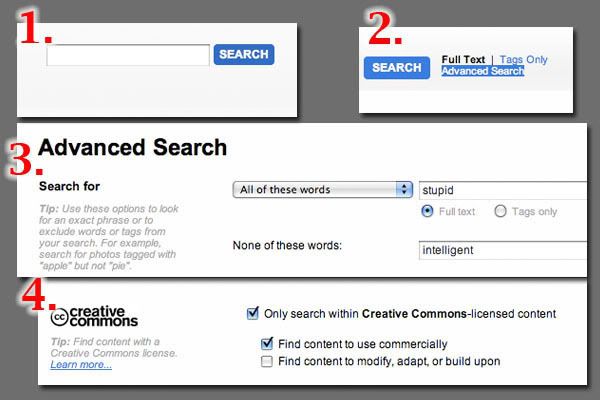 Did you catch that?
Click Search, then Advanced Search, then fill in your parameters and be sure to click Creative Commons and Licensed for Commercial work.
Keep a little notepad open on your desktop. Copy and paste the name of the photographer and the URL of the photo you download with the title of the photo as you saved it. Easy!
Once you've got a few photos ready to insert into your document, it's time to resize them.
You can do this using your image host, but in many instances, you will need a more specific photo size. That's where The Gimp comes in handy. It's free software you can download to your mac or PC. Download it here if you don't already have it.

In The Gimp, go File>New.
You will automatically be given an option to select the size of the image you want. Be sure to change the parameters to "pixels" rather than inches or centimeters. Click "OK."
A window will have opened up and at the top of that window, you should go to File>Open as Layer, and choose the photo you want to resize. You should then see the photo open in the window that is already the size you need for your blog.
Be sure to select the move tool from the panel on the left of your screen. The Gimp automatically selects the paintbrush tool upon being opened. But it's free. What do you want?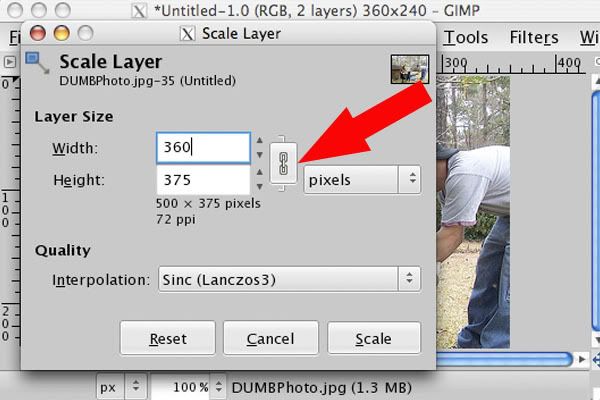 Scale the layer. What will be the most important will be matching the width, so type the width you want into the top box and then click the paper clip and it will put it into proportion according to your specifications.
When you're happy, go to File>Save As, and select JPEG. You need to do this because the document is now in layers in a file format not every program uses. Exporting it as a JPEG ensures that it will be read in that universal image code.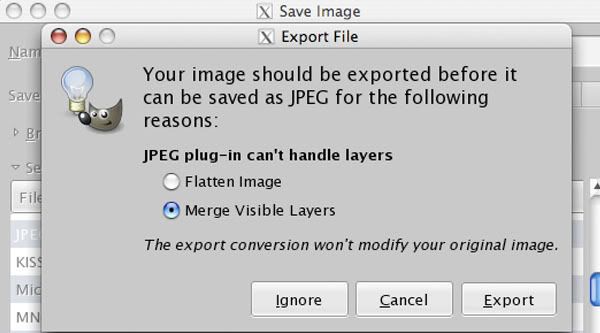 Follow the example in the picture above and select Merge Visible Layers>Export.
Photo: Allmightymo
So there you have it. Your image is the right size and ready to plug into your blog. If you're wondering how to code your images, you can always go here. The writer is nice and straightforward and very clear.
As for crediting photographers, you only have to go to the handy notepad you saved to your desktop with the URLs of the photos along with their titles and authors, and paste the username of the photog after the phrase you use to credit photos. Highlight that, and use your paperclip link function (almost every blog has it) and highlight that name and link the photographer to the name. It's that easy.
If you want to be nice, leave the photographer a little note letting them know you used their image.
The end, and happy blogging!