Written on May 1, 2009 by shannon
In preparation for my upcoming travel, I was pondering which cameras to bring with me. Six days in a new country, do I want my DSLR? Yes. 35mm film? Yes. Holga? Yes. Where do you draw the line? Or what do you do when you're traveling and think "I wish I had my 35mm for this shot"? Which is worse?
Traveling with camera gear can be a pain. First, cameras take up space and weight in your luggage. Obviously, I have a tough time deciding which cameras are the most important and often can't leave any behind. This is an issue I frequently confront. Last December I traveled across the globe to Australia with 4 cameras in tow. My upcoming trip to I plan to take the same.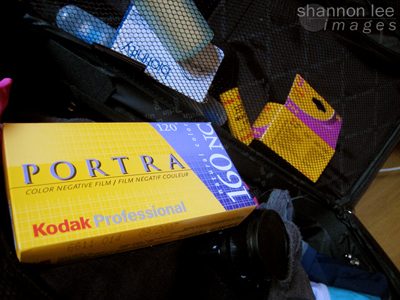 Tips for traveling with your camera.
1) If you are traveling with an SLR or DSLR, consider removing the lens from the body to pack it into your suitcase. It takes up less space this way.
2) Try wrapping and padding your lens and camera body with your clothes, another safe way of traveling and space saver!
3) Try to limit yourself to one lens that you use the most if you are traveling for pleasure. I typically travel with my 24-70mm and a 50mm.
4) Be sure to bring plenty of memory cards and or film. There's nothing worse than running out of space or film at a perfect moment. You never know when you're going to find one.
Traveling with film - Can it be x-rayed? Simple answer - yes. The airport advises film over ISO 800 should not be x-rayed. Typically I use film that is ISO 200-400, so I've never encountered this issue. But with all the film I've traveled with I've never had a problem with exposed or unexposed film being botched from an airport x-ray machine. If you're in doubt, they will hand check it for you. I know several photographers who have had this done and it has not been an issue. Do not be afraid to travel with your film! Shoot film, there's nothing like it.
If you're still in doubt or lacking space, there's nothing like traveling with a good point and shoot. Mine fits in my purse and goes everywhere with me. Great for putting in a pocket or small case while on the go.
Don't be afraid to travel with your gear but make sure you have everything insured and keep an eye on locals who may try and snag your precious gear. There's nothing like exploring a new place and showing the world your perception through a lens. Have fun!
Coming soon: The best of Costa Rica!